Get ready to play the most fun casino game ever made! Evolution Gaming presents Crazy Time!
June 6, 2020
Endless entertainment for players is guaranteed with latest Evolution Gaming release Crazy Time! Packed with bonus games and multipliers, Crazy Time is a true game show that's both fun to play and watch.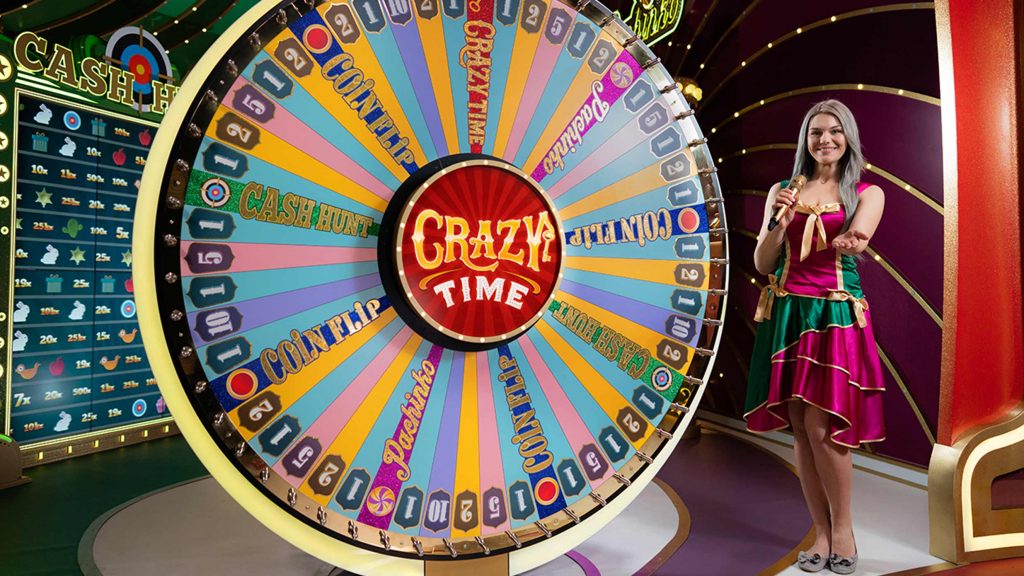 The Crazy Time studio includes a main money wheel, a Top Slot above the money wheel and four exciting bonus games — Cash Hunt, Pachinko, Coin Flip and Crazy Time. The money wheel has 54 segments, and each contains either a number (1, 2, 5 or 10) or a bonus game.
The main money wheel stops at a bonus segment, the bonus game will start. If a multiplier was won in the Top Slot, the multipliers in the bonus game will be multiplied accordingly at the start of the game.
Crazy Time bonus games
Bonus games feature:
COIN FLIP
In the Coin Flip bonus game, a coin with a blue side and a red side will be flipped. Each side is given a random multiplier at the start of the bonus game round.
CASH HUNT
Each player selects their own target in this interactive bonus round. As a result, different players will win different multipliers.
PACHINKO
A large Pachinko wall will appear. A puck will be dropped from the top of the Pachinko wall and you will win the multiplier where it lands.
CRAZY TIME
Behind the red door there's a gigantic virtual wheel in a crazy and fun virtual world. The virtual wheel has 64 segments and is filled with crazy multipliers with the possibility for crazy multiplied winnings!
Crazy Time is now available on our GameHub, with a single API integration. For more information feel free to contact us on [email protected]
latest posts
06.11.2023

Introduction The world of online gaming is constantly evolving, and TOKA City and BlueOcean Gam

02.11.2023

BlueOcean Gaming, a leading B2B online casino platform provider and game aggregator, has embarked o